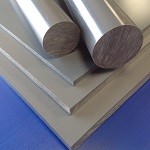 In this weeks tech chat, we wanted to bring you PVC in it's basics (as an engineering plastic that is) which means an unbiased assessment of its good points and also where it has its limitations. PVC is not always the first material you'd always consider for engineering applications but you never know, read on and you may save a few quid.
Cant see 'U'
Whenever you hear PVC on the telly particularly by double glazing folk, there's always a 'U' knocking around somewhere, this is short for Unplastisized, its nothing fancy, it simply means to you and me that it's rigid. The opposite of that would be P-PVC grade which is plastisized and that's the stuff curtain strip doors in warehouses are made of.
Engineering grade is U-PVC but the U is one of those silent ones
What does it do well?
The first consideration is price, its around 10% cheaper than nylon 6
It machines pretty good.
It bonds with adhesives very easily and welds very well also.
Forming & fabricating is also one of the best
Great with chemicals and solvents
Excellent electrical resistance
Class 1 fire rating
What does it not do well at?
Wear resistance isn't particularly great
Strength & toughness cant match nylon (30% less)
Working temperature is only 60 degrees C
Where would it be used
In sheet form, its often used to make acid or chemical tanks as well as ducting, this is because its easily bent, fabricated, bonded and even welded. Another great application is hygienic wall cladding, it stays pretty flat, is easily cleaned with sterilization chemicals, bonds on to the wall simply and has an excellent fire rating.
In rod form we often find it used as spacers, spigots and custom made handles as part of the construction of the acid and chemical tanks and fittings. But its also great for any application or environment where electrics are being used to form the insulation barrier.
In daily life
In our domestic world by contrast, we find it in electrical plugs, sockets and switches and the soft plastisized grade of PVC is used to sleeve our electrical cables. As well as the obvious ones like PVC windows & doors.
In Summary
If you're looking for a nice economical plastic that machines well, that you can bond easily or you need good electrical, chemical and fire rating, then PVC may be one to consider.
On the other hand, if you need high wear resistance, very high strength or very high operating temperatures then at least you know to discount PVC.