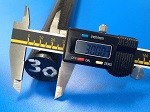 Imagine waking up to the sound of tweeting sparrows, you go downstairs and there's a full English just how you like it. You open the door, the sun is beaming and you can feel its already warm, wow even the weather girl with that nice pair of eyes that you can't help noticing has got it right.
On your way to work you notice there's a bit less traffic on the road, Bill Withers is playing on the radio and everyone has started using their indicators.
You arrive at work, wave good morning to the guy in the unit next door, go inside and put the kettle on. You take your first sip and you look up to see Mr Postman arriving with a smile and he's brought that cheque that you'd been promised already. Right behind him, a van pulls up and as usual its your nylon rod you ordered from us. 
You're careful to open the package because you know what's inside, as you remove the packaging you notice the finish on it is extra amazing, you put a vernier on and Bingo! Its bang in size.
You already know today is going to be a breeze as you decided to order precision ground rod this time and now you've saved the best part of an hour not having to machine it down, so on goes the kettle for another celebratory mug of tea and perhaps a hobnob for good measure, well you could do with a few extra calories as you're looking a bit too slim really.
Now, we know we've exaggerated a bit here, particularly with the "everyone has started using their indicators" bit never mind the weather girl prediction but there is a strong case for getting the factory to centre less grind your plastics for you.
They can get it to +/- 0.05mm and anything from 3mm upto 100mm diameter is fine.
It takes them around 3 to 5 days to do, the finish is great and it doesn't cost much. You never know, you may save enough time to finish work a bit earlier and cremate those burgers on the barbecue before it snows.